Sony RX0 II Comparison Review
The Sony Cyber-shot DSC-RX0II is a fixed lens compact camera that was revealed to the public in March 2019 and is equipped with an one-inch sensor. It offers a resolution of 15.4 megapixel.
Is the Sony RX0 II a good camera? The RX0 II has a Camera Elo of 2256. This rating puts the RX0 II among the top 40 percent of all prime lens compact cameras. In terms of its sensor size category (one inch cameras), the RX0 II ranks among the top 50 percent. Based on its within category standings, the camera earns a 3.5-star performance rating.
Headline Specifications
Sony RX0 II
Fixed lens compact camera
24mm f/4.0
15.4 MP, 1" Sensor
4K/30p Video
ISO 80 - 12 800
no viewfinder, LCD framing
1.5 LCD, 230k dots
Tilting screen (no touchscreen)
5.5 shutter flaps per second
Waterproof body (10m)
240 shots per battery charge
59 x 41 x 35 mm, 132 g
Read on to find out more about the camera's size, sensor, features, reception by expert reviewers, and how it compares to other digital cameras.
Body comparison with a credit card
The side-by-side display below illustrates the physical size of the Sony RX0 II vis-à-vis a credit card. Three consecutive views from the front, the top, and the rear side are shown. All size dimensions are rounded to the nearest millimeter.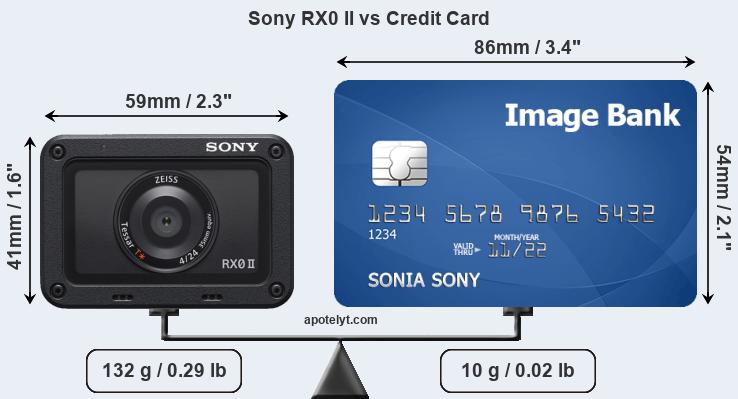 The table below summarizes the key physical specs of the Sony RX0 II alongside a set of similar cameras. If you want to review a particular camera pair side-by-side, just move across to the CAM-parator tool and choose from the broad selection of possible comparisons there.
The listed prices provide an indication of the market segment that the manufacturer of the cameras have been targeting. The Sony RX0 II was launched in the US market at a price of $699. Usually, retail prices stay at first close to the launch price, but after several months, discounts become available. Later in the product cycle and, in particular, when the replacement model is about to appear, further discounting and stock clearance sales often push the camera price considerably down. Then, after the new model is out, very good deals can frequently be found on the pre-owned market.
Sensor comparison with a 35mm slide
The size of the imaging sensor is a crucial determinant of image quality. A large sensor will tend to have larger individual pixels that provide better low-light sensitivity, wider dynamic range, and richer color-depth than smaller pixel-units in a sensor of the same technological generation. Furthermore, a large sensor camera will give the photographer more possibilities to use shallow depth-of-field in order to isolate a subject from the background. On the downside, larger sensors are more costly to manufacture and tent to lead to bigger and heavier cameras and lenses.
The Sony RX0 II features an one-inch sensor and has a format factor (sometimes also referred to as "crop factor") of 2.7. Within the spectrum of camera sensors, this places the Sony RX0 II among the medium-sized sensor cameras that aim to strike a balance between image quality and portability.
Consistent information on actual sensor performance is available from DXO Mark for most cameras. This service is based on lab testing and assigns an overall score to each camera sensor, as well as ratings for dynamic range ("DXO Landscape"), color depth ("DXO Portrait"), and low-light sensitivity ("DXO Sports"). The adjacent table reports on the physical sensor characteristics and the outcomes of the DXO sensor quality tests for a sample of alternative cameras.
Sensor Characteristics

Camera
Model
Sensor
Class
Resolution
(MP)
Horiz.
Pixels
Vert.
Pixels
Video
Format
DXO
Portrait
DXO
Landscape
DXO
Sports
DXO
Overall
1.
Sony RX0 II
1-inch
15.4
4800
3200
4K/30p
22.1
12.4
555
65
2.
Nikon P950
1/2.3
15.9
4608
3456
4K/30p
20.7
12.3
1189
52
3.
Nikon W150
1/3.1
13.0
4160
3120
1080/30p
22.1
13.8
4058
65
4.
Panasonic FT7
1/2.3
20.2
5184
3888
4K/30p
20.6
12.1
1028
51
5.
Ricoh WG-60
1/2.3
15.9
4608
3456
1080/60p
20.6
12.2
1072
51
6.
Sony ZV-1
1-inch
20.0
5472
3648
4K/30p
22.2
12.6
669
66
7.
Sony RX100 VI
1-inch
20.0
5472
3648
4K/30p
22.1
12.3
478
64
8.
Sony HX99
1/2.3
18.0
4896
3672
4K/30p
20.6
12.1
1058
51
9.
Sony HX95
1/2.3
18.0
4896
3672
4K/30p
20.6
12.1
1057
51
10.
Sony WX800
1/2.3
18.0
4896
3672
4K/30p
20.6
12.2
1070
51
11.
Sony RX0
1-inch
15.4
4800
3200
1080/60p
22.4
12.4
548
68
Note: DXO values in italics represent estimates based on sensor size and age.
Many modern cameras are not only capable of taking still images, but also of capturing video footage. The RX0 II indeed provides movie recording capabilities. The highest resolution format that the RX0 II can use is 4K/30p.
Feature comparison
Beyond body and sensor, cameras can and do differ across a range of features. The adjacent tables list some of the other core features of the Sony RX0 II along with similar information for a selection of comparators.
Core Features

Camera
Model
Viewfinder
(Type or
000 dots)
Control
Panel
(yes/no)
LCD
Specifications
(inch/000 dots)
LCD
Attach-
ment
Touch
Screen
(yes/no)
Max
Shutter
Speed *
Max
Shutter
Flaps *
Built-in
Flash
(yes/no)
Built-in
Image
Stab
1.
Sony RX0 II
none
n
1.5 / 230
tilting
n
..
5.5/s
n
n
2.
Nikon P950
2359
n
3.2 / 921
swivel
n
1/4000s
7.0/s
Y
Y
3.
Nikon W150
none
n
2.7 / 230
fixed
n
1/2000s
4.7/s
Y
n
4.
Panasonic FT7
1170
n
3.0 / 1040
fixed
n
1/1300s
10.0/s
Y
Y
5.
Ricoh WG-60
none
n
2.7 / 230
fixed
n
1/4000s
8.0/s
Y
n
6.
Sony ZV-1
none
n
3.0 / 922
swivel
Y
1/2000s
24.0/s
n
n
7.
Sony RX100 VI
2359
n
3.0 / 1229
tilting
Y
1/2000s
24.0/s
Y
Y
8.
Sony HX99
638
n
3.0 / 922
tilting
Y
1/2000s
10.0/s
Y
Y
9.
Sony HX95
638
n
3.0 / 922
tilting
n
1/2000s
10.0/s
Y
Y
10.
Sony WX800
none
n
3.0 / 922
tilting
Y
1/2000s
10.0/s
Y
Y
11.
Sony RX0
none
n
1.5 / 230
fixed
n
..
5.5/s
n
n
Notes: *) Information refers to the mechanical shutter, unless the camera only has an electronic one.
The LCD screen on the Sony Cyber-shot DSC-RX0II is flexibly attached to the body. In particular, the LCD can be tilted vertically to facilitate odd-angle shots in landscape orientation. This tilting design is often preferred, for example, by street photographers to a fully articulated, swivel type of LCD attachment, as it is more unobtrusive during shooting than a screen that flips out to the side.
Connection comparison
For some imaging applications, the extent to which a camera can communicate with its environment can be an important aspect in the camera decision process. The table below provides an overview of the connectivity of the Sony Cyber-shot DSC-RX0II and, in particular, the interfaces the cameras (and selected comparators) provide for accessory control and data transfer.
Input-Output Connections

Camera
Model
Hotshoe
Port
Internal
Mic / Speaker
Microphone
Port
Headphone
Port
HDMI
Port
USB
Port
WiFi
Support
NFC
Support
Bluetooth
Support
1.
Sony RX0 II
-
stereo / mono
Y
-
micro
2.0
Y
-
Y
2.
Nikon P950
Y
stereo / mono
Y
-
micro
2.0
Y
-
Y
3.
Nikon W150
-
stereo / mono
-
-
micro
2.0
Y
-
Y
4.
Panasonic FT7
-
stereo / mono
-
-
micro
2.0
Y
-
-
5.
Ricoh WG-60
-
mono / mono
-
-
micro
2.0
-
-
-
6.
Sony ZV-1
Y
stereo / mono
Y
-
micro
2.0
Y
-
Y
7.
Sony RX100 VI
-
stereo / mono
-
-
micro
2.0
Y
Y
Y
8.
Sony HX99
-
stereo / mono
-
-
micro
2.0
Y
Y
Y
9.
Sony HX95
-
stereo / mono
-
-
micro
2.0
Y
Y
Y
10.
Sony WX800
-
stereo / mono
-
-
micro
2.0
Y
Y
-
11.
Sony RX0
-
stereo / mono
Y
-
micro
2.0
Y
-
Y
It is notable that the RX0 II has a microphone port. Such an external microphone input can help to substantially improve the quality of audio recordings when a good external microphone is used.
The RX0 II has a prime lens built in (7.9mm f/4.0), which, in full frame equivalent terms, provides a focal length of 24mm. The camera is, hence, ready to shoot, while remaining more compact in size than an interchangeable lens camera with an optic of similar focal length and aperture specifications.
Further information on the features and operation of the RX0 II can be found in the free online Sony RX0 II Manual or on the Sony support site.
Expert reviews
While the comparison of technical specifications can provide a useful overview of the capabilities of different cameras, it says nothing about, for example, the handling, responsiveness, and overall imaging quality of the RX0 II in practical situations. At times, user reviews, such as those published at amazon, address these issues in a useful manner, but such feedback is on many occasions incomplete, inconsistent, and unreliable. This is where reviews by experts come in. The following table reports the overall rankings of the cameras as published by some of the major camera review sites (amateurphotographer [AP], cameralabs [CL], digitalcameraworld [DCW], dpreview [DPR], ephotozine [EPZ], photographyblog [PB]).
Care should be taken when interpreting the review scores above, though. The assessments were made in relation to similar cameras of the same technological generation. Thus, a score needs to be put into the context of the launch date and the launch price of the camera, and comparing ratings of very distinct cameras or ones that are far apart in terms of their release date have little meaning. Also, please note that some of the review sites have changed their methodology and reporting over time.
Sony RX0 II FAQ
Below are some additional questions and answers concerning some particular features of the RX0 II.
What is the technology behind the imaging sensor in the Sony RX0 II?
The camera has a CMOS (Complementary Metal–Oxide–Semiconductor) sensor at its core.
Which image processing chip is used in the Sony RX0 II to convert the raw signal into an image file and perform noise reduction and image sharpening?
Sony equipped the RX0 II with the BIONZ X image processor.
What is the ISO sensitivity range of the Sony RX0 II?
The camera has a native sensitivity range from ISO 80 to ISO 12800.
Does the Sony RX0 II have a selfie-friendly screen?
Yes, the LCD-screen of the RX0 II is flexible and can be turned to be front-facing for capturing selfies.
Is completely silent shooting possible with the Sony RX0 II?
The camera has an electronic shutter option, so that it is indeed feasible to capture images without any shutter noise.
Is it difficult to use manual focus lenses with the Sony RX0 II?
The RX0 II offers focus peaking as a manual focus aid. This feature works by placing a colored highlight on in-focus zones within the image.
Does the Sony RX0 II support the Ultra High Speed (UHS) bus interface for SD cards?
Yes, the camera can indeed use UHS-I cards (data transfer speed of up to 104 MB/s).
Camera to camera comparisons
In case you would like to check on the differences and similarities with other camera models, just make your choice using the following search menu. Alternatively, you can follow any of the listed hyperlinks for comparisons that others found interesting.
Specifications Summary
Camera Model
Sony RX0 II
Camera Type
Fixed lens compact camera
Camera Lens
24mm f/4.0
Launch Date
March 2019
Launch Price
USD 699
Sensor Specs
Sensor Technology
CMOS
Sensor Format
1" Sensor
Sensor Size
13.2 x 8.8 mm
Sensor Area
116 mm2
Sensor Diagonal
15.9 mm
Crop Factor
2.7x
Sensor Resolution
15.4 Megapixels
Image Resolution
4 800 x 3 200 pixels
Pixel Pitch
2.74 μm
Pixel Density
13.22 MP/cm2
Moiré control
Anti-Alias filter
Movie Capability
4K/30p Video
ISO Setting
80 - 12 800 ISO
Image Processor
BIONZ X
Screen Specs
Viewfinder Type
No viewfinder
Top-Level Screen
no Top Display
LCD Framing
Live View
LCD Size
1.5 inch
LCD Resolution
230k dots
LCD Attachment
Tilting screen
V-logging Friendliness
Front-flip possible
Touch Input
No touchscreen
Shooting Specs
Focus System
Contrast-detect AF
Manual Focusing Aid
Focus Peaking
Continuous Shooting
5.5 shutter flaps/s
Silent Shooting
Electronic Shutter
Time Lapse Photography
no Intervalometer
Fill Flash
no On-Board Flash
Storage Medium
mMS or mSDXC cards
Single or Dual Card Slots
Single card slot
UHS card support
UHS-I
Connectivity Specs
External Flash
no Hotshoe
USB Connector
USB 2.0
HDMI Port
micro HDMI
Microphone Port
External MIC port
Wifi Support
Wifi built-in
Bluetooth Support
Bluetooth built-in
Body Specs
Environmental Sealing
Waterproof body (10m)
Battery Type
NP-BJ1 power pack
Battery Life (CIPA)
240 shots per charge
In-Camera Charging
USB charging
Body Dimensions
59 x 41 x 35 mm
(2.3 x 1.6 x 1.4 in)
Camera Weight
132 g (4.7 oz)
Did you notice an error on this page? If so, please get in touch, so that we can correct the information.
You are here: Home » CAM-parator » Sony RX0 II Review